SITEBUILDER_2019_ALFA_ROMEO_GIULIA_QUADRIFOGLIO_FIENDISH_SPEED_WINNIPEG_1_PAGE_TITLE
2019 Alfa Romeo Giulia Quadrifoglio Has Fiendish Speed For Winnipeg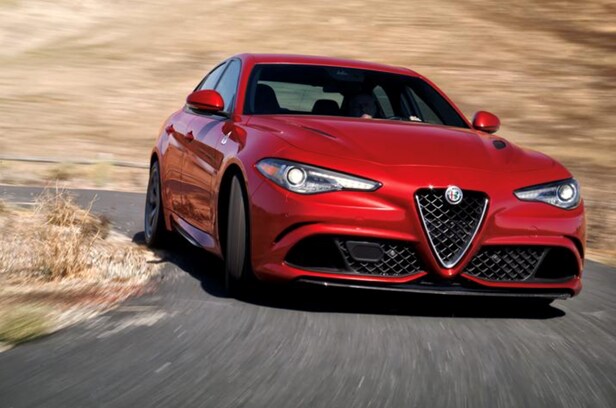 The 2019 Alfa Romeo Giulia Quadrifoglio is a sedan that's anything but ordinary. It takes "performance-focused" to a rarely achieved level; it really is a celebration of speed in its purest yet most refined form.
This sensational sedan struts its stuff with a 2.9L V6 engine that makes the most of every mile. It creates a wicked 505 HP at 6,500 revolutions per minute (RPM) and 443-lb.-ft. of torque at 2,500 RPM. Speed is instant; the car is wildly responsive to every press of the pedal. Plus, the luxury interior is comprised of leather and Alcantara, resulting in an even finer driving experience.
The 2019 Alfa Romeo Giulia Quadrifoglio has serious safety features to back up all that speed, too. The automatic high-beam headlamps keep visibility high throughout the day and night. Lane Departure Warning aids in keeping you focused on the road, while Forward Collision Warning Plus (with autonomous braking capability) can automatically stop your vehicle for you when the potential for a crash arises.